Who is Bacco?
Bacco (Bacchus) is an ancient Roman God and his name comes from the Greek word "Βάκχος (Bákkhos)."
Bacco is the God of wine, of the vendemmia and his worship (baccanale) arrived in the Italian peninsula during the second century B.C. The name is synonymous with happiness, joy and merry-making.
Who is Bacco Selections LLC?
Bacco Selections LLC was founded in 2013 by Paolo Pellizzari and Sheila Pellizzari.
Living in the heart of Chianti and having close relationships with the vineyards and winemakers, together Paolo and Sheila developed a passion for and knowledge of wine.
Also having residence in North Carolina, they felt that there was a void in that market for high level, quality wines at a competitive price point.
Sheila has over 15 years business experience working in the luxury industry and Paolo is also a civil engineer, building private and business steel structures.
Together they have built this company on the principles learned in those industries their careers: quality, organization, dependability, efficiency and novelty.


Bacco inspired many masters in the past such as Michelangelo, Leonardo da Vinci, Tiziano and Caravaggio.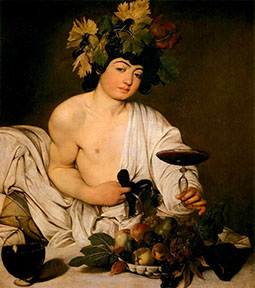 Who else is Bacco?
Bacco is also our dog.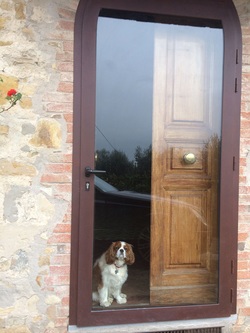 When Bacco was a puppy he used to pass out sleeping belly up under all our wine bottles and snoring loudly. His behavior inspired us to name him Bacco, who is the Roman God of wine, merrymaking and the grape harvest.
Then, that same year, when we were thinking of the company name, he inspired us.
More about Bacco: In the Press
A new selection of highly rated, exclusive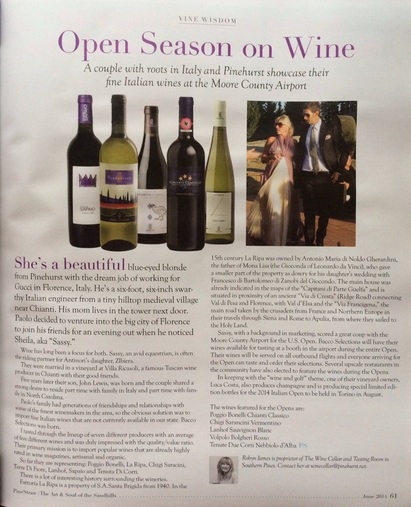 wines are making their way to North Carolina by Bacco Selections LLC, a new Pinehurst and Tuscany-based wine import and distribution company.
Bacco Selections was recently founded by Paolo and Sheila Pellizzari and imported their first container of wines to the United States in May 2014. Paolo and Sheila are using their roots (his-Tuscan, hers-Pinehurst, NC) to create a business that will bring wines from the vineyards and the suppliers directly to the retailers.
Sheila (Priory) Pellizzari moved to Florence in 2002 from Manhattan where she was working for Travel & Leisure magazine then Vogue magazine in Advertising and Marketing. Feeling like she needed a break from the "Devil Wears Prada" lifestyle, she decided to pursue a Master's degree in Fashion Marketing in Florence Italy. She was enthralled by the Dolce Vita lifestyle and after she completed her Master's degree, she was not ready to leave. She pursued a job with the fashion luxury powerhouse Gucci, and worked her way up the corporate ladder in advertising, marketing and ebusiness communications for over 12 years.
In the meantime, Paolo Pellizzari, an Italian engineer from Genova, would spend weekends at his country house in Tuscany. It was there that he met Sheila, and shortly thereafter moved to the Chiantishire so that they could be closer to eachother. In 2010, they were married and forged not only a lifelong love story and family, but now a company together.
They both wanted to move to Pinehurst, where Sheila's lives (her family migrated there to from the northeast in 1969), and as they spent more time there, they realized that there was a lack in the market for a selection of renowned, highly rated, small, family produced and organic wines from their beloved Tuscany.
Bacco Selections was born.
They planned their company "kick off" in line with the men's and women's US Golf Opens in Pinehurst in June 2014. They were sponsors at the Moore County Airport, offering wine to all the incoming players and private aviation passengers and partnering with the caterer to have their wines on outbound private flights. Concurrently, they introduced their wines to restaurants, hotels, and retail stores throughout select counties in North Carolina.
A few of their most popular selections include:
-Certified Organic: Fattoria La Ripa: Chianti Classico 2010 (90 pts Wine Spectator) and Chianti Classico Riserva 2009 (92 pt WS)
-Poggio Bonelli: Chianti Classico Riserva 2009 (90 pts WS) and Poggiassai Supertuscan 2010 (93 pts WS)
-Mastrojanni: Brunello di Montalcino 2009 (90 pts WS) and Brunello di Montalcino Vigna Loreto 2009 (93 pts WS)
-Podere Sapaio: Volpolo Bolgheri 2011 (93 pts WS) and Sapaio Bolgheri Superiore 2009 (94 pts WS)